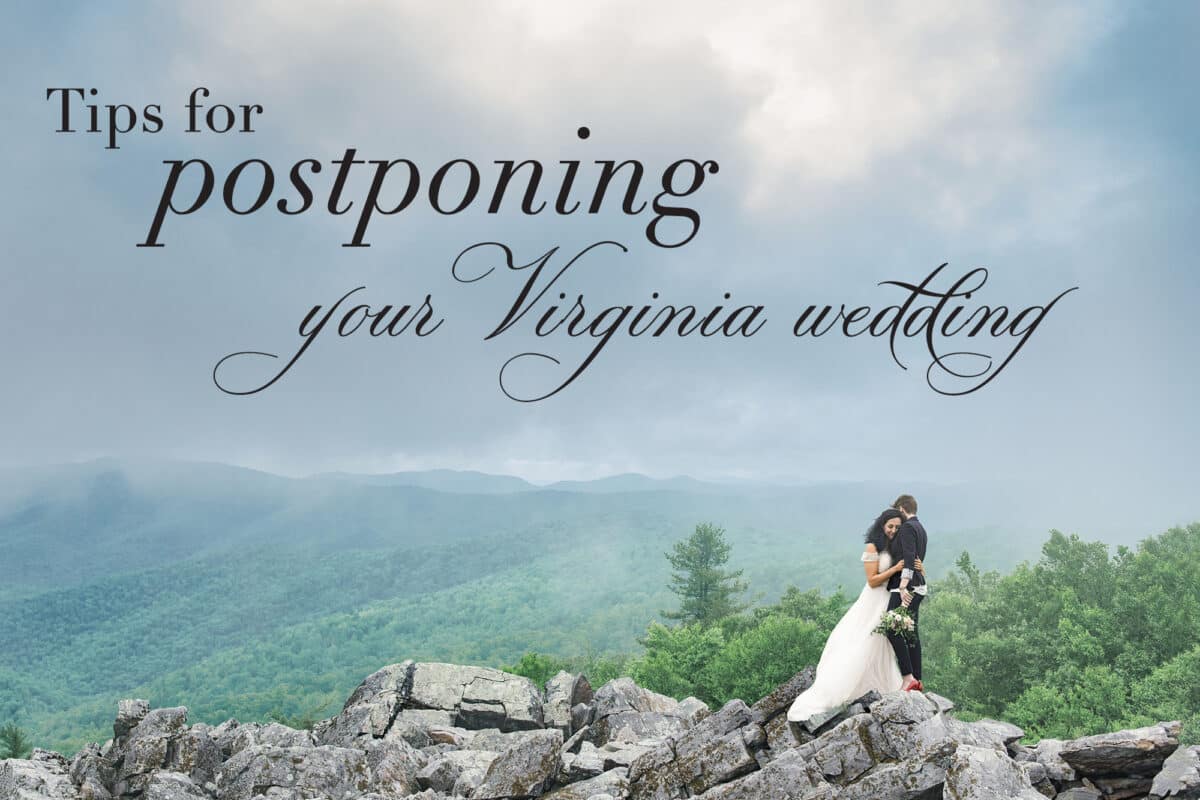 Were you planning a spring wedding or event and find yourself needing to make some changes? We're to help! Below, we are sharing tips to help you postpone your wedding.
COVID-19 has completely altered daily life for most Americans, with recommendations for staying safe and healthy changing daily. As of March 15, the CDC has recommended all gatherings over 50, including weddings, be canceled.
Therefore, many couples are looking at options to postpone their wedding for a later date in order to still celebrate their marriage the way they envisioned but while prioritizing the health and safety of their guests and vendors. 
While postponing your wedding is obviously not something you took into account, we have compiled tips to help you navigate this challenging time.
Logistics are different for every wedding and depend on factors like how far out your date is and your vendors' availability. While working through the hardships of changing your plans, it's important to remember what your wedding is really about: you are going to marry someone you love with support from people who love you, and regardless of how your wedding eventually comes together, that is something truly beautiful. 

Tips For Postponing Your Wedding
Continue watching the news—the current situation is very fluid, and the CDC has recommended canceling all weddings in the United States through May 15, 2020. Try to stay level-headed and consider the health of loved ones you want present at your wedding. If you have decided to postpone your event in the interest of everyone's safety, first talk to your planner (or, if you don't have a planner, your venue) about your next steps. Your planner or venue will be a good third-party resource throughout this process, as they are familiar with the wedding industry and want to help you reschedule your big day in the way that best fits you, your plans, your budget and your guests. 
When should we tell guests that we are postponing our wedding?
As soon as you know you're postponing, let your guests know via phone or email so that they can adjust their travel arrangements, even if you haven't selected a new date yet. This lets guests cancel any hotels or flights in a timely manner, and it also gives you extra support. Having loved ones who are there for you throughout your postponement planning makes staying positive a lot easier. 
Do you have wedding insurance?
Check your special event insurance (if you have it) before reaching out to vendors to see what your policy covers. It likely won't cover the outbreak completely, but it may cover some differences in costs. If you don't have insurance, don't worry about it! Consider insurance for your new wedding date, if possible. 
Take a look at your vendor contracts and be sure to read the fine print, so you know what money you will be able to get back. Be familiar with your vendor's cancellation policy. A lot of vendors will include a force majeure, or "act of God," clause in their contracts in the case of unseen emergencies, but what this clause covers varies by the wording of the contract. And, plan on additional costs for nonrefundable services. Depending on how far out your wedding date is, know that some things—such as florals and cakes—have already been ordered or begun, and you will have to pay for that. Be considerate of your vendors, as most are small business owners who are also struggling amidst the impact of COVID-19. 
Which vendors should I contact (and when) to postpone my wedding?
Once you're familiar with your contracts, talk to your vendors. Let them all know you're going to be postponing and are working on what that will look like. Contact them all personally, but call the bigger vendors first, especially those who can not do more than one wedding in a day, like your venue, band/DJ, photographer and videographer.
Will my wedding vendors be available when we reschedule?
Ask about their availability for future dates so that you can try to have as many of the same vendors for your new date, but expect to have a few changes, as some may be booked completely depending on when you're considering your new wedding. When communicating with your vendors, remember that we're all in this together. They want to help you with your wedding postponement as much as possible but may be unavailable or unable to provide a refund due to the strains COVID-19 is placing on small businesses. Any who are unavailable will likely be more than happy to give you a recommendation they think will be a great fit for you and your wedding.
What options do I have for rebooking my wedding?
After getting availability from your vendors, look at new dates with your venue to rebook an official date. Consider your vendor's availability, your own schedule, your family's and your bridal party's, and try to find the date that works best for you. You may consider getting married on a weekday when your vendors are all available.
Once rebooked, get everyone involved together to be sure you're on the same page, especially if you've had any changes to your vendors. This is a great way to reset and start focusing on your new wedding date! Think about any changes you may want to make between your original vision and your new date: if you were having a spring wedding and are now planning for the fall, you may want to consider some flower and color changes to better fit the season. This is a great opportunity to make any sorts of changes you wish you had thought about earlier! Your previous wedding planning experience is only going to make this easier. 
When should we announce our "new" date to our guests?
Now that you have your new date set, formally inform your guests. You can do this with a "change the date" card or a new invitation (paper or digital, up to you!). Depending on how far out you are from your original wedding date, and if you have sent your invitations already, think about sending a digital announcement. If you're postponing to 2021 and haven't sent invites yet, you can remain on the normal invitation schedule of 8–10 weeks before your new date. 
How to have your cake and eat it too during this crisis:
Postponing is hard … you've been looking forward to your wedding for months, maybe even years, and now have to look at waiting a little longer. If you're not keen on waiting (we get you!), you can have a small city hall ceremony now and still have the wedding of your dreams at a later date!
We are all in this together, and it is our sincere hope that these tips to help you postpone your Virginia wedding will help ease the navigating in this unprecedented time.
Regardless of what you do for your wedding, at the end of the day, you will leave married to someone you love and get to start the rest of your lives together. Your wedding is the marker of a longer journey: no matter what it looks like, it is only the beginning. 
Photo by 3 Cats Photo.
Wine & Country celebrates elevated living in the heart of Virginia Wine Country. Wine & Country Weddings, an art book celebrating elegant country weddings in the region, and Wine & Country Life, a semi-annual life & style magazine, are accompanied by the Wine & Country Shop in Ivy, VA—a beautiful lifestyle boutique featuring over 40 Virginian artisans with everything from tailgating essentials and Dubarry attire, to locally made foods and award-winning Monticello AVA wines, as well as craft beverages for your next event. Wine & Country Experiences are now also available and include exclusive tours and hands-on classes with leading professionals in the local farm-to-table and vineyard scenes.