Celebrate your Engagement with a Glamorous Farm-to-Table Party
It is officially engagement season! Throw a chic and elegant engagement party this winter by incorporating seasonal décor. Beautiful and bold, rich gold is the perfect touch to add romance and a polished look to your celebration. Host your party at a beautiful country venue and add a rustic setting to contrast the gold. This bride-to-be chose one of Mount Ida Farm & Vineyard's beautiful manors to celebrate her engagement.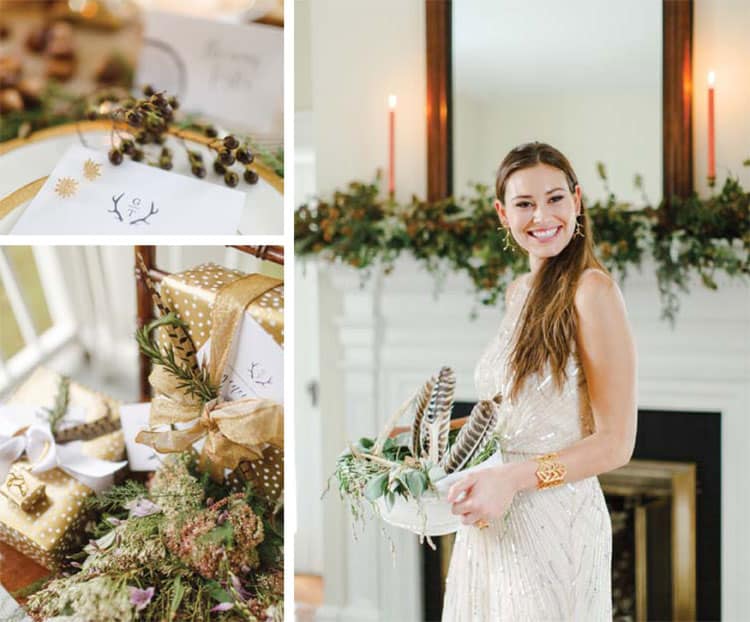 Winter offers ample opportunities to create an atmosphere exuding trendy country glamour. Authentic natural elements like antlers give décor an amazing sculptural quality that can be incorporated from the stationary to the centerpieces. Surprise your guests with small gifts on their dinner placecards, like cuff links and earrings. The earrings pictured above are Gold Pave Venezia Stud earrings by Suz Somersall.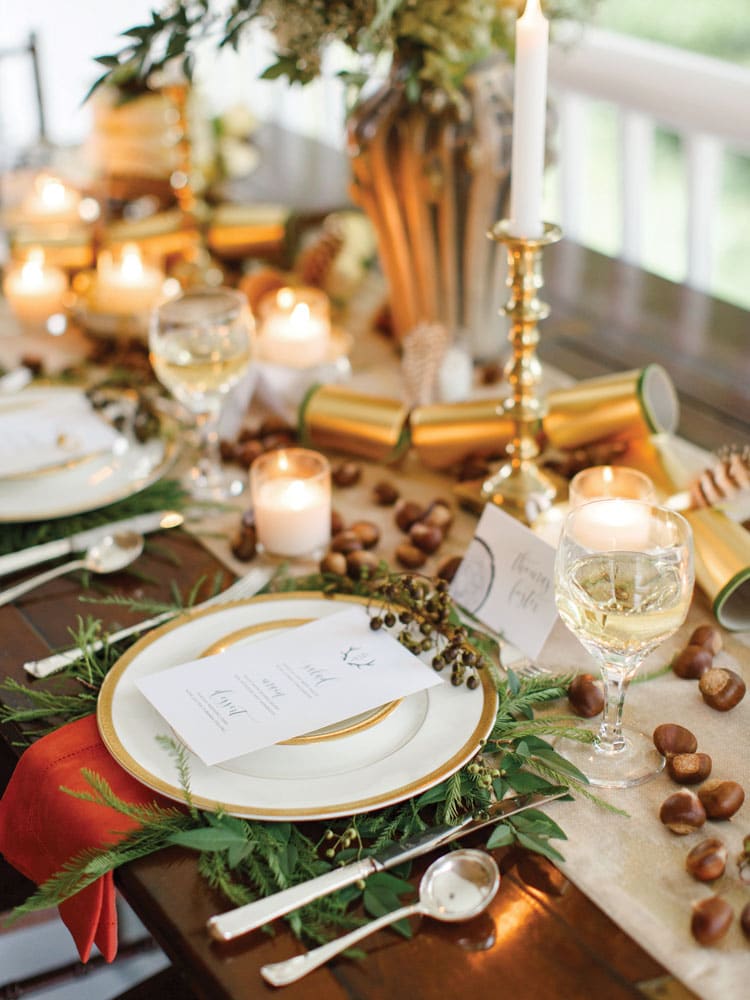 In setting a particular table, begin with choosing gold pieces to feature such as the flecked goblets and gold-rimmed plates the hostess hand-selected. Tapered candles and delicate votives cast a glow on guests' place settings, dancing gracefully over the glittering touches. Adding greenery plucked right from your garden adds homey accents. Arrange a variety of winter greens for the foundation of your floral display and add some berries, pine cones, late blooms and seed heads for variety and texture.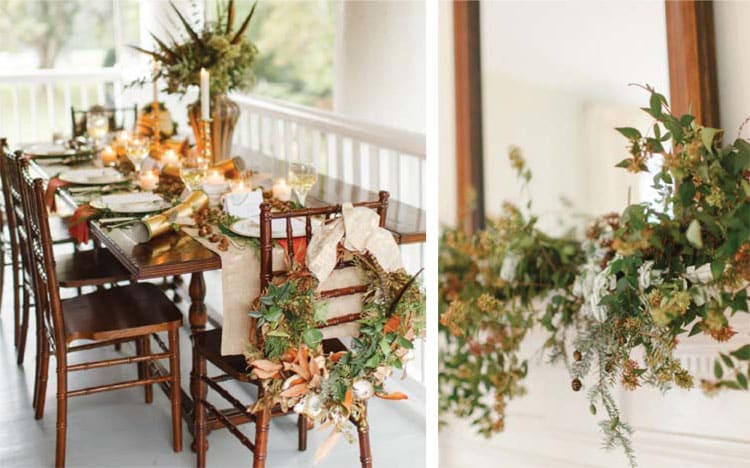 Gilding your party décor with touches of romantic gold—bringing in the rustic charm of natural elements—is the perfect way to create an elegant tablescape for celebrating with your guests this season. Once your vision is set, you can enjoy the company of friends and family and toast to your new engagement.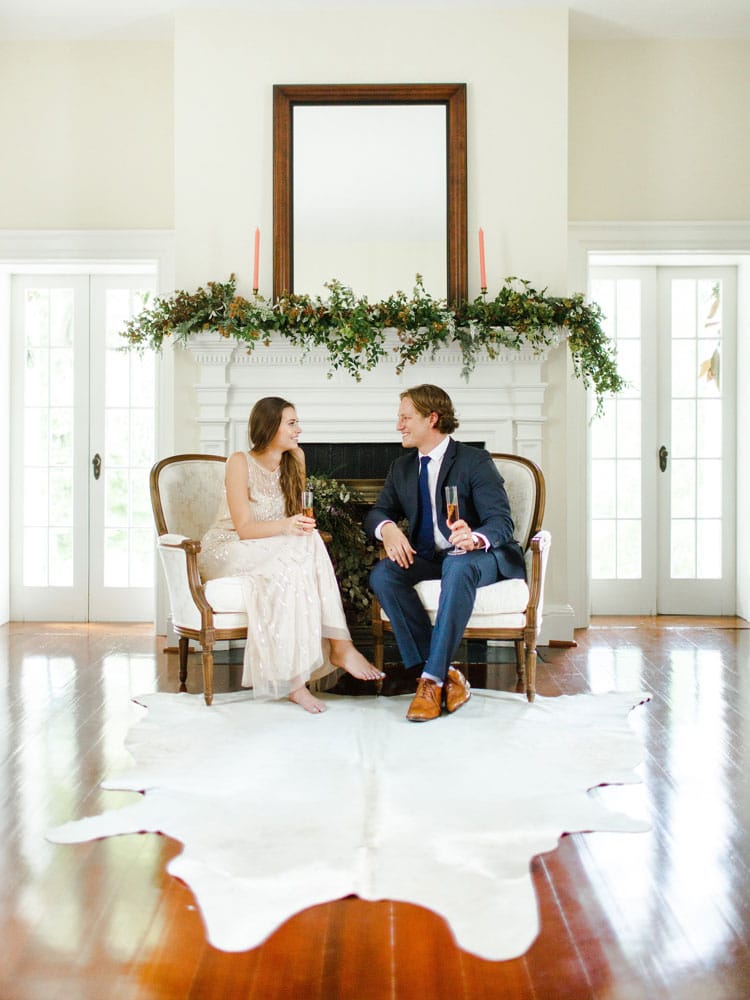 Photography: Rachel May
Creative Direction + Styling: Lolly Lux for Suz Somersall
Co-creative + Florist: Katarzyna Borek
Jewelry: Suz Somersall
Venue Coordinator: Millicent Lynch of Murcielago Farms
Venue: The Farms at Turkey Run
Hair & Makeup: Tinsley Onuegbu
Stationery & Calligraphy: If So Inklined
Hostess: Natalie Barkley
Champagne Sequin Gown: Aidan Mattox
Floral Brocade Strapless Gown: Carmen Marc Valvo
Host: Stefan Bozik
Suit: J. Crew
Argentinian Belt Accessories: La Matera
Wine & Country celebrates elevated living in the heart of Virginia Wine Country. Charlottesville Wine & Country Living, a semi-annual magazine of Life & Style in Jefferson's Virginia, and Charlottesville Wine & Country Weddings, an art book celebrating elegant country weddings in Jefferson's Virginia, are accompanied by the Charlottesville Wine & Country Shop in Ivy, VA, a beautiful lifestyle boutique featuring over 40 Virginia artisans with everything from tailgating essentials and Dubarry attire to locally made foods, award-winning Monticello AVA wines as well as craft beverages for your next event. Wine & Country Experiences are now also available and include exclusive tours and hands-on classes with leading professionals in the local farm-to-table and vineyard scenes.