Welcoming guests with a gorgeous gift bag is a gesture that will start your destination wedding weekend beautifully. Charlottesville artisans offer an array of wonderful local products to delight your guests and wedding party, and we have curated a unique selection for our new Wine & Country Welcome & Favor Bag Collection.
This collection includes a thoughtfully hand-picked assemblage of handsome bags ready to fill with an assortment of the finest local artisan-made gifts our area has to offer. Each bag we offer was carefully selected for its enduring beauty and practicality, ensuring your gift recipients can continue to enjoy the bags for a long time to come—whether for trips to the market or vineyard outings. From cinched pouches and burlap totes to classic French market baskets, our line offers many beautiful options.
(Below: "Thank You For Being My Bridesmaid" gift set in the Petite French Market Basket)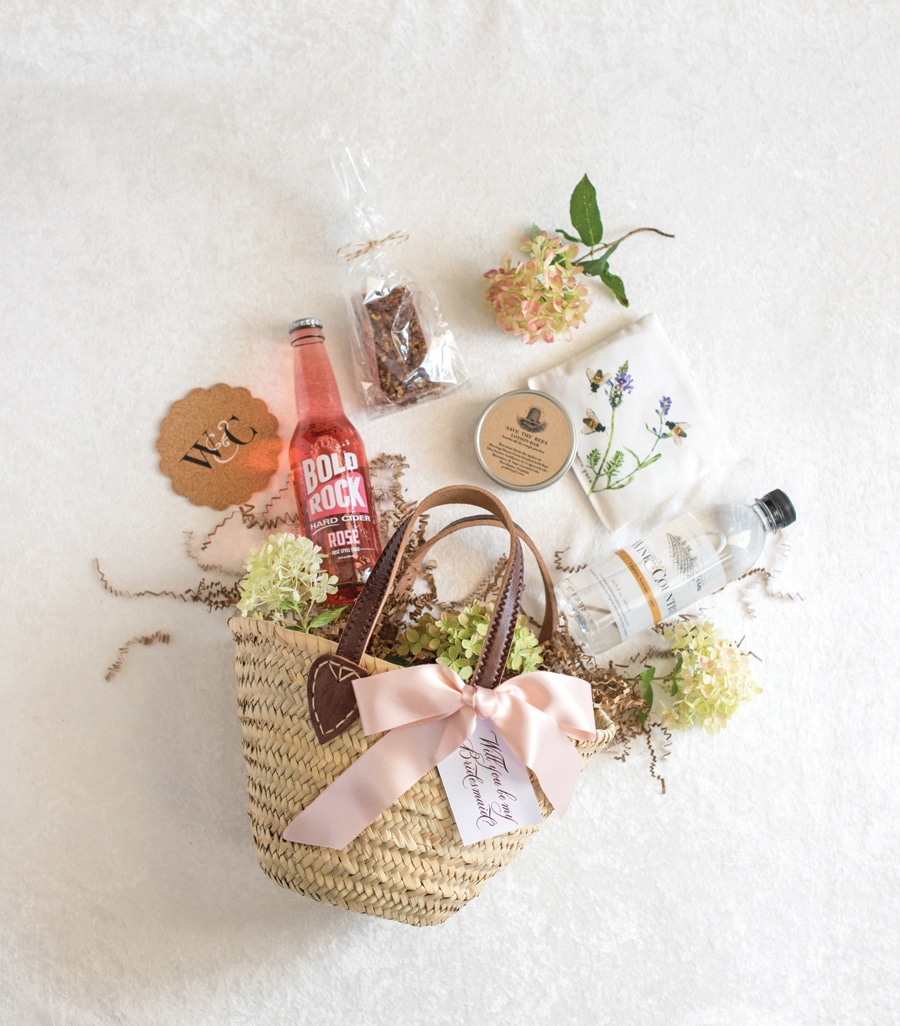 When choosing the contents for your gift bags, you may select one of our themed luxury gift collections, or you can assemble your own bag from our selection of goods and wares. Click here to learn more about some of the artisans and products we carry. We also carry award-winning wines from our region's finest boutique wineries, which can make a thoughtful addition to your gift. Once your product selection is completed, we will help you personalize your gift with a luxurious French ribbon bow and a Wine & Country card, made by a local artist exclusively for our shop.
(Below: Sample assortment of items in the Petite Linen Gift Bag)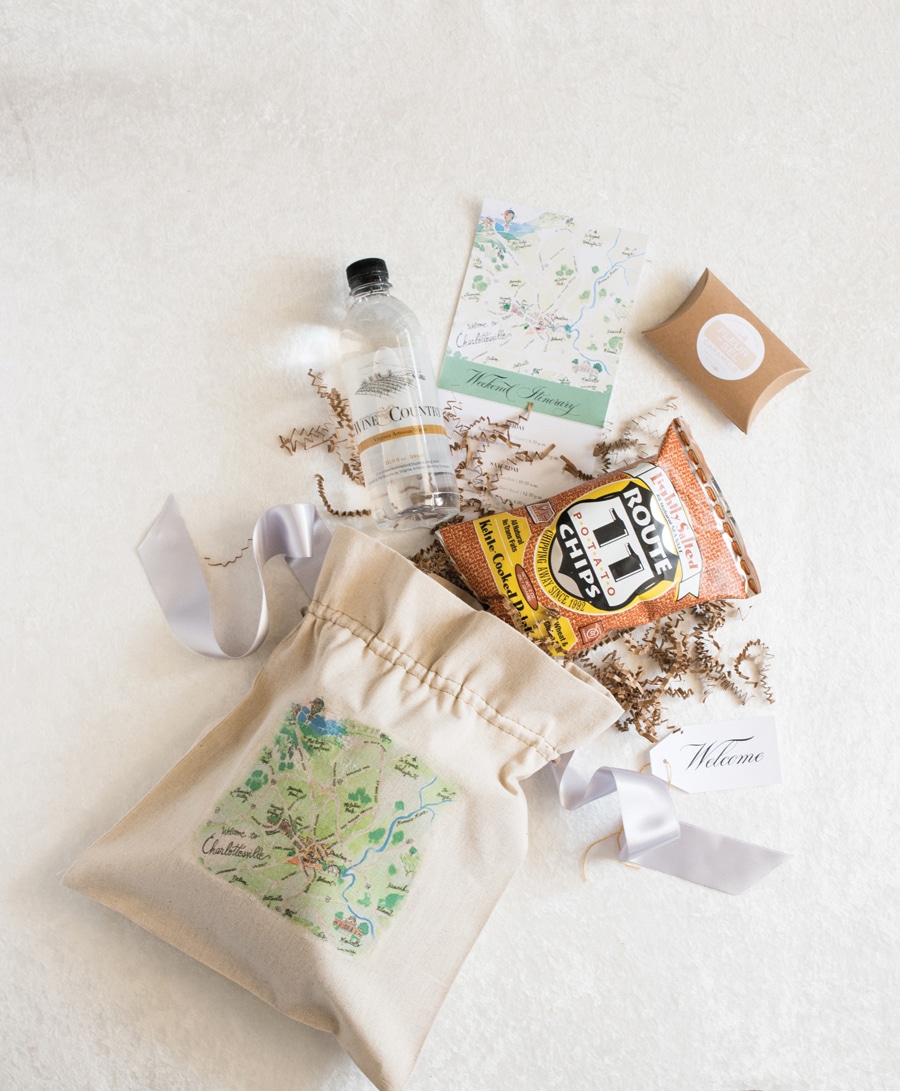 To browse the full Wine & Country Welcome Bag Collection, visit the new Wine & Country Shop, opening October 10 at 4416 Ivy Commons in Charlottesville. Visit during shop hours (10am–6pm, Wednesday–Saturday) or email Shop@CharlottesvilleWineandCountry.com to make an appointment.
(Below: Sample assortment of items in the Charlottesville Loves Tote)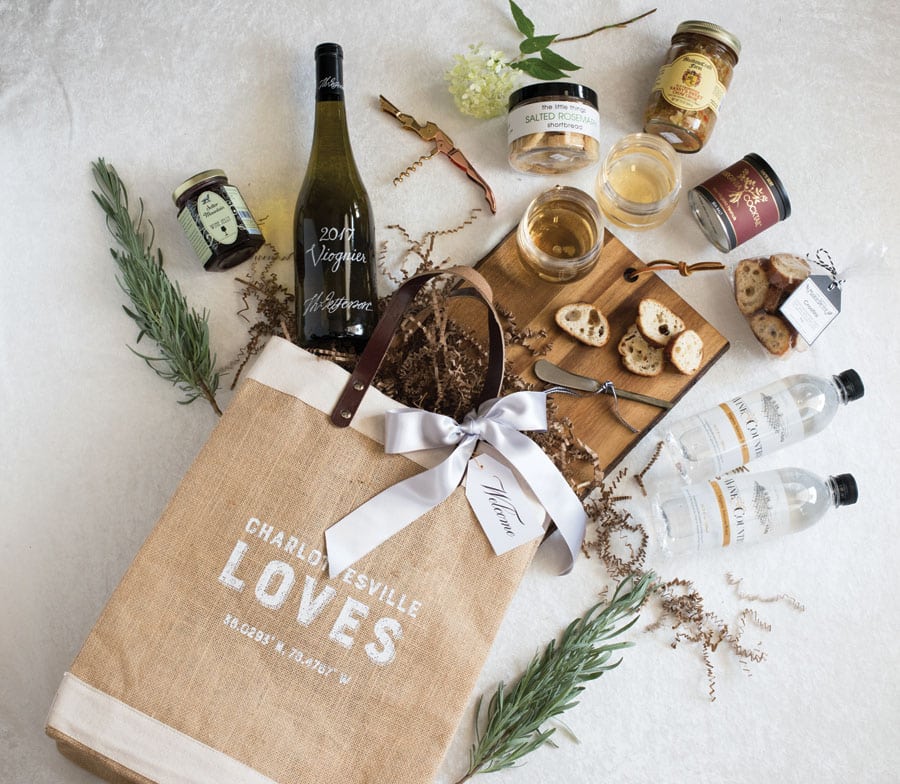 Wine & Country celebrates elevated living in the heart of Virginia Wine Country. Charlottesville Wine & Country Living, a semi-annual magazine of Life & Style in Jefferson's Virginia, and Charlottesville Wine & Country Weddings, an art book celebrating elegant country weddings in Jefferson's Virginia, are accompanied by the Charlottesville Wine & Country Shop in Ivy, VA, a beautiful lifestyle boutique featuring over 40 Virginia artisans with everything from tailgating essentials and Dubarry attire to locally made foods, award-winning Monticello AVA wines as well as craft beverages for your next event. Wine & Country Experiences are now also available and include exclusive tours and hands-on classes with leading professionals in the local farm-to-table and vineyard scenes.