Every man wants to feel like a million bucks on his wedding day, and there are many ways grooms can personalize their attire. For the modern groom, this can include different colors schemes, shirt patterns, vests, ties, suit styles, shoes and more. The list of accessories groom's can choose from to make a fashion statement goes on and on. Scroll down for a few ideas we've loved recently!
(Below, left photo by Jen Fariello Photography; Top right by 3 Cats Photo; Bottom right by Anagram Photo)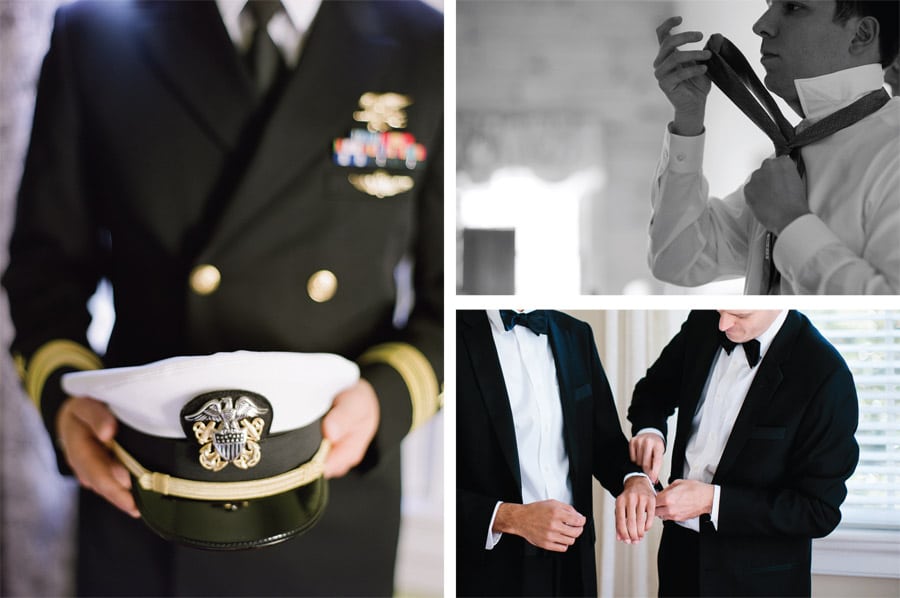 Military Dress Uniform. The groom's ranking, the time of year and formality of your celebration will determine which formal military uniform the groom should wear. Note: No boutonnieres should be worn with ceremonial military uniforms.
Embroidered Tie or Bow Tie. Consider embroidering a tie with the wedding date or another special detail to turn an accessory into a wedding keepsake.
Custom Cufflinks. These are a great way to showcase the groom's Alma mater and heritage, and can be another way to commemorate the wedding day.
(Below, top left photo by Adam Barnes Fine Art Photography; Bottom left by Tom Daly Photography; Right by Sera Petras Photography)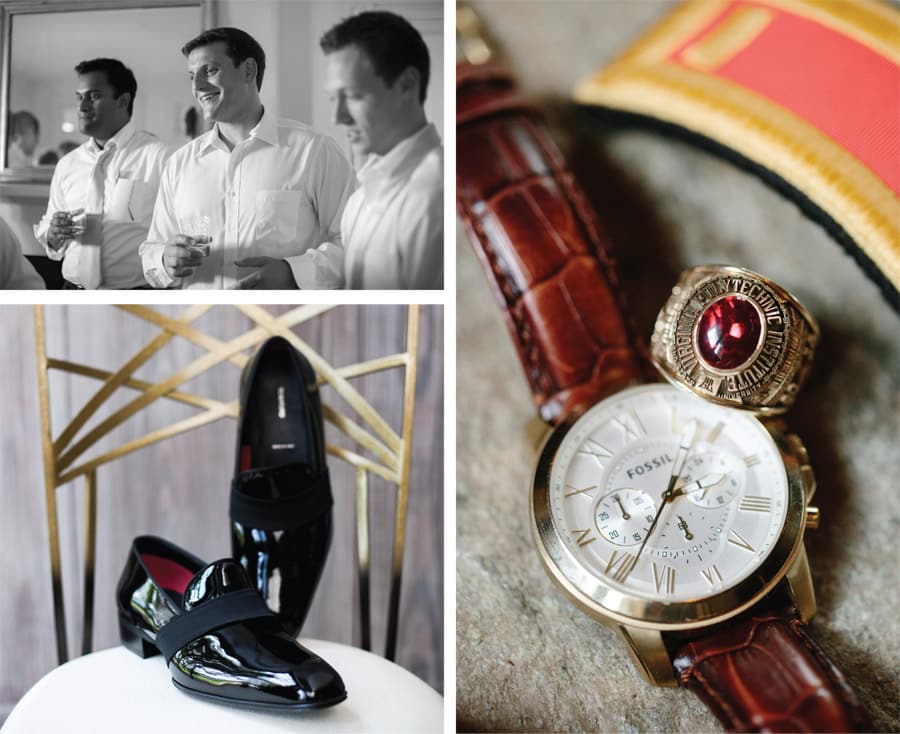 New Dancing Shoes. The groomsmen can coordinate with more than just their tuxes, suits and socks. Consider a leather lace-up or a chic derby shoe to finish the look.
A Special Time Piece. A watch always makes for a special gift to the groom on the day of his wedding and is a great accessory for any look.
College Ring. A wedding is the perfect place for a groom to wear and showcase his college ring to honor his Alma mater.
(Below, photo by Sera Petras Photography)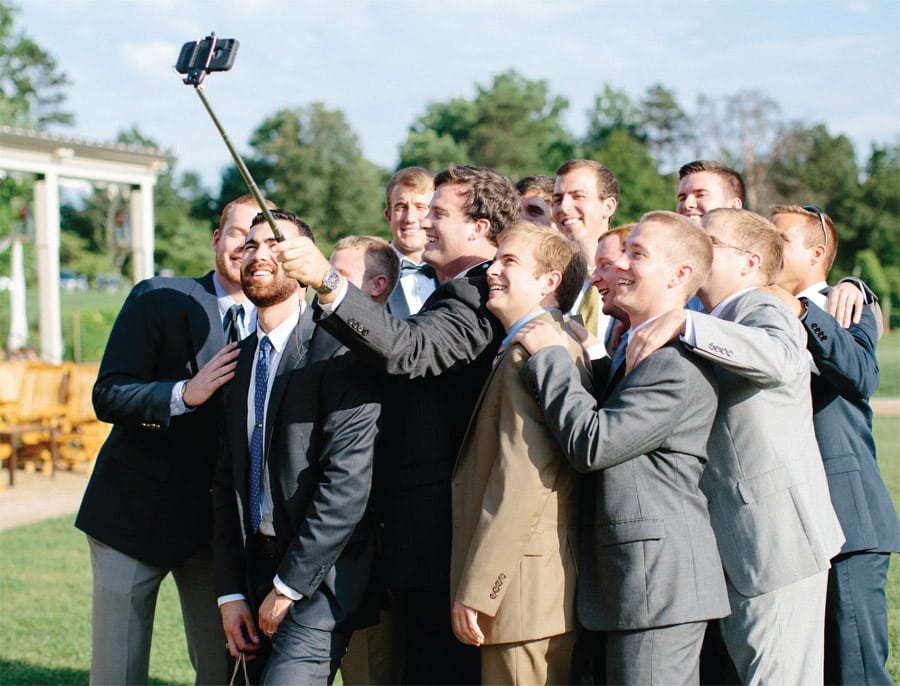 No matter how a groom chooses to highlight his personal style and interests—with his clothing or accessories—there are many ways he can incorporates a true sense of self on his special day. Find more ideas in Charlottesville Wine & Country Weddings.
(Lead photo by Anagram Photo)
Wine & Country celebrates elevated living in the heart of Virginia Wine Country. Charlottesville Wine & Country Living, a semi-annual magazine of Life & Style in Jefferson's Virginia, and Charlottesville Wine & Country Weddings, an art book celebrating elegant country weddings in Jefferson's Virginia, are accompanied by the Charlottesville Wine & Country Shop in Ivy, VA, a beautiful lifestyle boutique featuring over 40 Virginia artisans with everything from tailgating essentials and Dubarry attire to locally made foods, award-winning Monticello AVA wines as well as craft beverages for your next event. Wine & Country Experiences are now also available and include exclusive tours and hands-on classes with leading professionals in the local farm-to-table and vineyard scenes.
At Ivy Publications, we're inspired by the belief that by utilizing technology, working efficiently and attending to quality, we create publications that honor the reader and build a real connection with our local businesses. This belief has led to prosperous and long-standing relationships with our clients, who entrust us with their advertising and have enjoyed great success utilizing our niche publications to effectively reach their target markets since 1998.