After a dozen years, Cesar Dcroz and Michael Latsko stood together amidst the picturesque green vineyards and distant blue mountains at The Farmhouse at Cardinal Point Winery. On this perfect fall afternoon in September with elegant white cloud wisps framing a gorgeous azure sky, Cesar and Michael were each escorted from the pretty white Farmhouse to the alter by his family.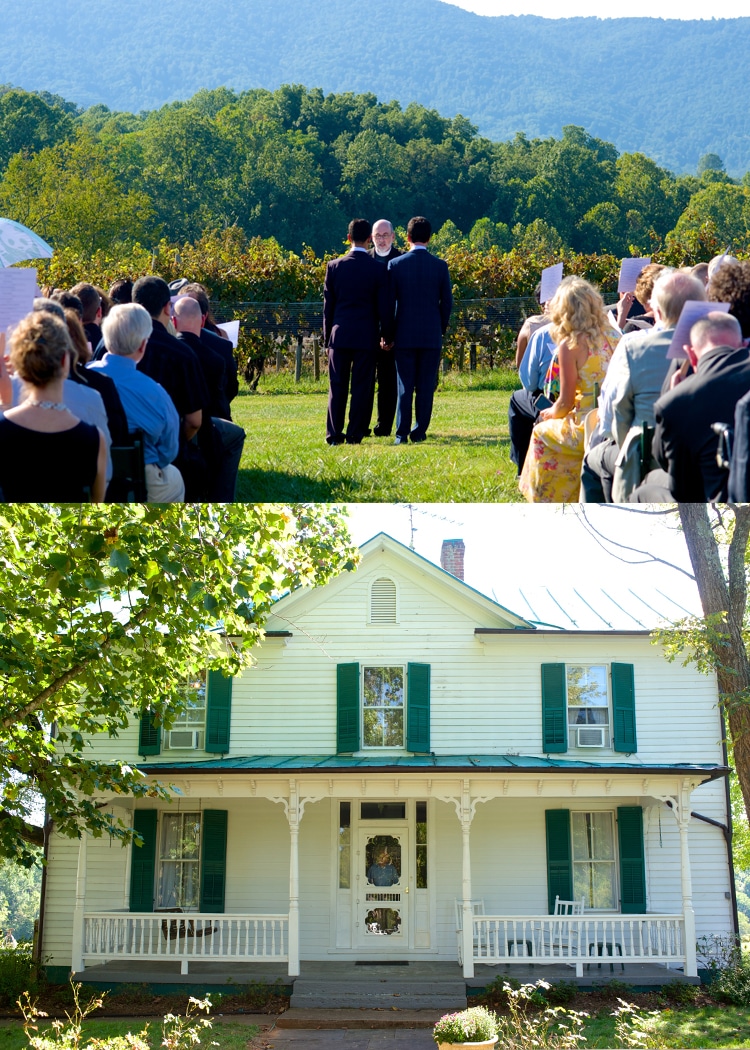 Photographer Will Kerner captured the celebration's intricate details, from the couple's perfectly tailored suits and matching ties to table adornments and the four-tier, two-flavored cake. The flower girl and ring-bearer, niece and nephew of Cesar, joined the couple as they exchanged their vows, and friends and family showered the two with love as they delivered readings throughout the ceremony.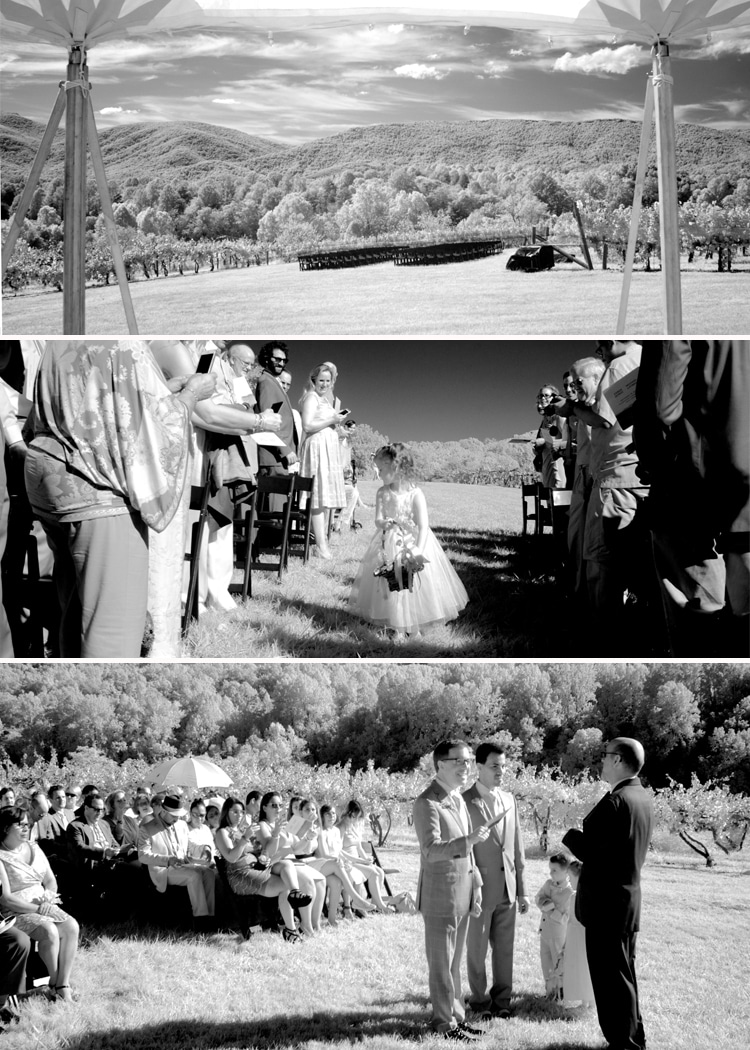 As the day turned to dusk and nightfall came, guests feasted on an elegant buffet of Southern favorites, followed by cake and selections of wine and beer by Cardinal Point Winery and Three Notch'd Brewing Company, with bubbly by Thibaut-Jannison Winery. Guests and the new couple danced the night away under a grand illuminated tent.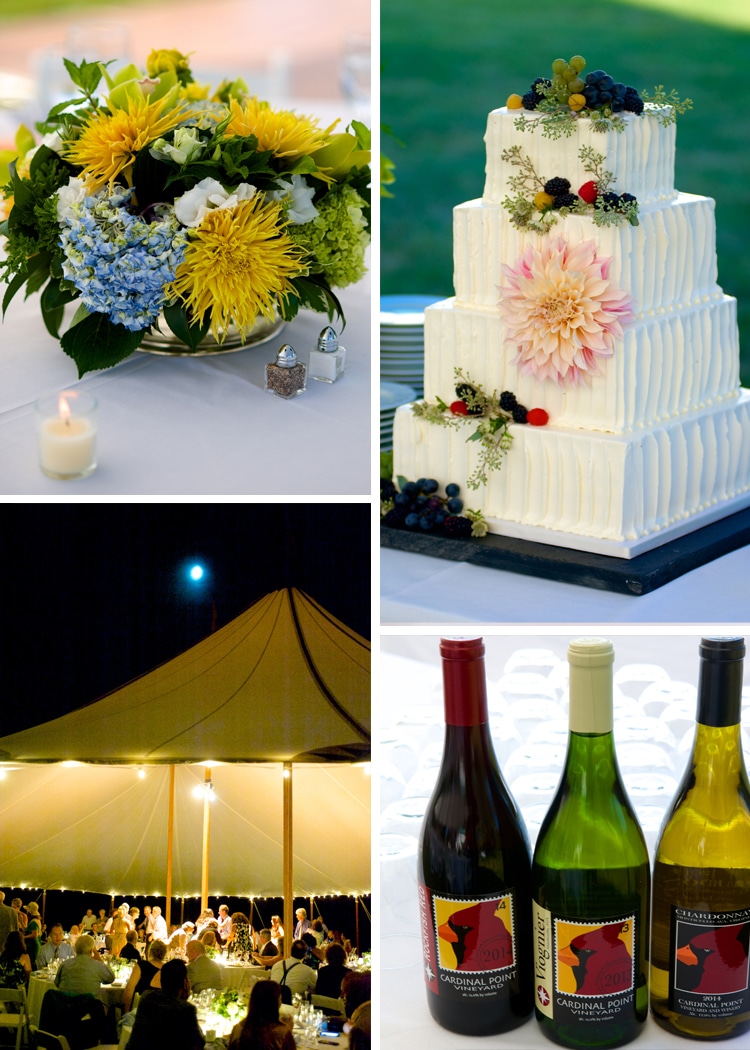 The couple's love of the scenic offerings and local fare are only a few of the many reasons they plan to make their home in Charlottesville.
Venue: Cardinal Point Winery
Cesar's wardrobe: Tuxedo Hugo Boss by CityCenterDC, Shirt by Ledbury, Tailoring by Beecroft & Bull and Josh Rozan, consultant, Shoes by Calvin Klein
Michael's Wardrobe & Tailoring: Phineas Cole by Paul Stuart and Peter Wei, consultant, Shirt by Eton Shirts, Shoes by Gucci
Matching Ties: Countess Mara
Aesthetician: Frederick Ayers
Wedding Planning & Coordination: Faye Male
Photographer: Will Kerner
Flowers: Tourterelle Floral Design
Wine: Cardinal Point Winery
Sparkling Wine: Thibaut-Janisson Winery
Beer: Three Notch'd Brewing Company
Party Rentals: Festive Fare
Tent: Skyline Tent Company
Restrooms: Stonegate Event Rentals
Shuttle service: A Goff Limousine & Bus Company
Hotel: The Graduate of Charlottesville, Shelly Stephens
Ceremony and Cocktail Hour Guitarist: Peter Richardson
Reception DJ: Mega Sound Entertainment, Cle Logan
Invitations and Fan Programs: Clover Lake Paper, Liz Valente
Rings: Fink's Jewelers, Mark Spalding
Cake: Cakes by Rachel
Catering: L'etoile Catering
Rehearsal Dinner Venue: Tavola
Rehearsal Dinner Flowers: Charles Phillips
Wine & Country celebrates elevated living in the heart of Virginia Wine Country. Charlottesville Wine & Country Living, a semi-annual magazine of Life & Style in Jefferson's Virginia, and Charlottesville Wine & Country Weddings, an art book celebrating elegant country weddings in Jefferson's Virginia, are accompanied by the Charlottesville Wine & Country Shop in Ivy, VA, a beautiful lifestyle boutique featuring over 40 Virginia artisans with everything from tailgating essentials and Dubarry attire to locally made foods, award-winning Monticello AVA wines as well as craft beverages for your next event. Wine & Country Experiences are now also available and include exclusive tours and hands-on classes with leading professionals in the local farm-to-table and vineyard scenes.