No matter your wedding dreams, you are sure to find the perfect venue amongst Charlottesville's many splendid choices. The combination of romantic countryside, elegance, vineyards, history and the creative people who are drawn to live here, has made Charlottesville one of the East Coast's most popular wedding destinations—rivaling events held in cities from New York to Los Angeles. Just as Thomas Jefferson wed here centuries ago, couples, today, find Charlottesville to be the perfect setting for beginning their love story. We have highlighted some of Charlottesville's unique and enchanting venues to help you envision your perfect wedding day.
---
King Family Vineyards, a family-owned farm and vineyard in Crozet, Virginia, offers a unique setting and venue with stunning views and suitable event spaces for bringing families and friends together on your special day. In comfortable, relaxed surroundings, it is a place to enjoy such a special and monumental moment of a couple's journey.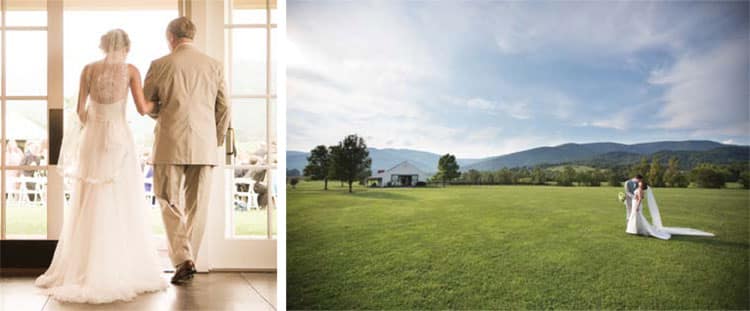 ---
Cardinal Point Vineyard & Winery in Afton, Virginia is an elegant and timeless destination for a Virginia countryside celebration. Surrounded by beautiful vineyards and breathtaking views of the Blue Ridge Mountains, its charming 19th-century farmhouse venue is the perfect setting to celebrate a magnificent send-off for newlyweds.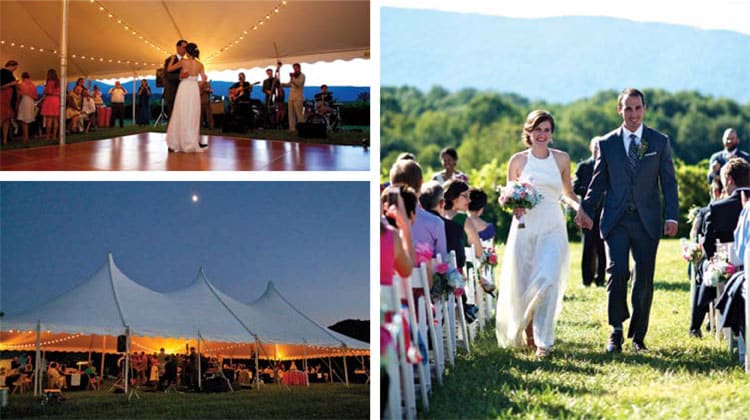 Photography by Will Kerner Photography
---
Castle Hill Cider, located in Keswick's horse country just miles from Charlottesville, offers many indoor and outdoor sites that allow for endless possibilities from the intimate to the incredible. The Cider Barn shares the crest of a verdant knoll with a linden tree grove. Artfully arranged below are apple orchards, a two-acre lake and custom-designed pergolas framing beautifully terraced lawns ideal for lawn games during cocktail hour.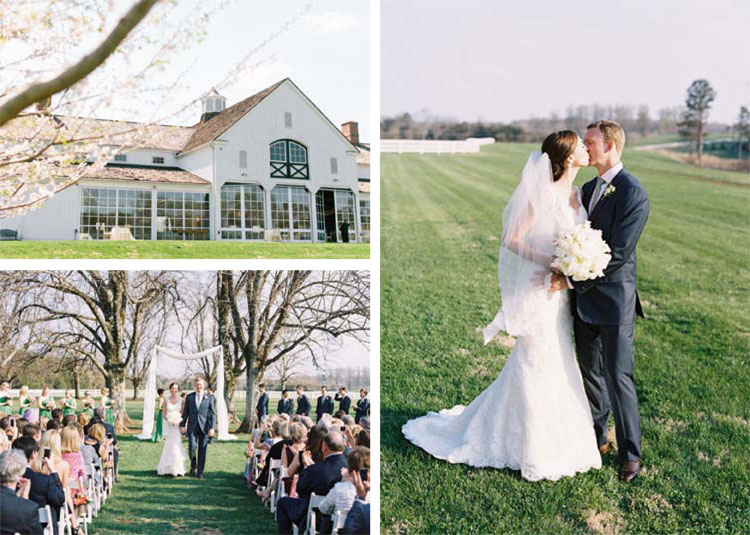 Photography by Adam Barnes; Planning and Styling by Shindig Weddings; Officiant: Gay Lee Einstein; Florals by Southern Blooms by Pat's Floral Designs; Bridal Dress by Alvina Valenta; Beauty and Hair by Virginia Glenn
---
Adventure Farm is a vintage family-owned farm providing a range of idyllic settings for a wedding. The farm offers spectacular Blue Ridge Mountain views, rolling pastures, lakes, woods and rows of grape vines marching up and over the hills. Your guests will be captivated by the ambiance of a traditional working farm, the charming tasting room, meadow and pond sites.

---
Situated among the sprawling Charlottesville hills on 100 acres of pristine gardens, a private lake and majestic views, the historic Clifton Inn—a relais & châteaux property—creates a stunning scene for the fairy-tale wedding of your dreams. Walk up the lavender pathway and through the wisteria arbor to the court, the Clifton Inn's premier event space. The elegant sperry tent with hardwood floors provides the perfect backdrop while dining and dancing beneath the star-filled Virginia sky.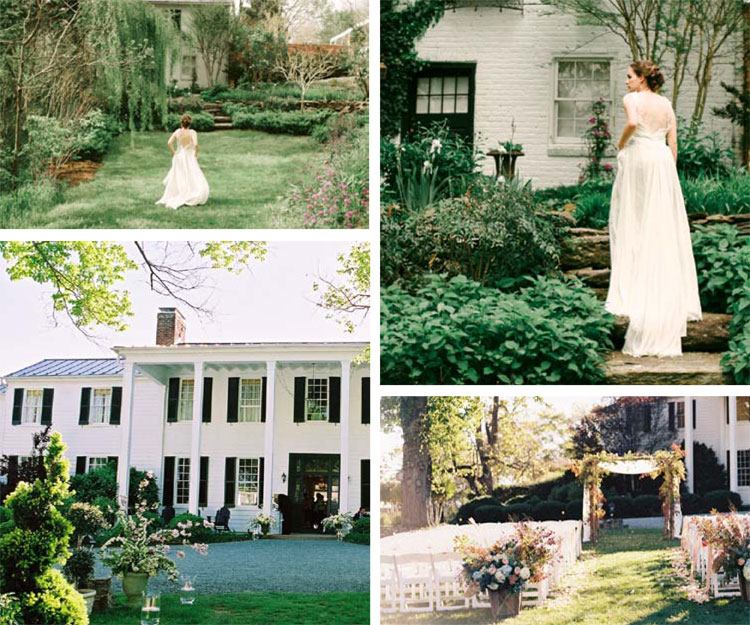 Top Photos by Bethany Snyder Photography; Bottom Right Photo by Aaron Watson Photography
---
First Colony Winery boasts breathtaking sunsets, charming Old World gardens, meticulously manicured vineyards, newly renovated facilities and an elegant atmosphere. The winery offers several venue choices, from the Tasting Room or Chanticleer Loft with its lovely cafe lighting to the Terrace Gardens or, for the most intimate setting, in the vineyard.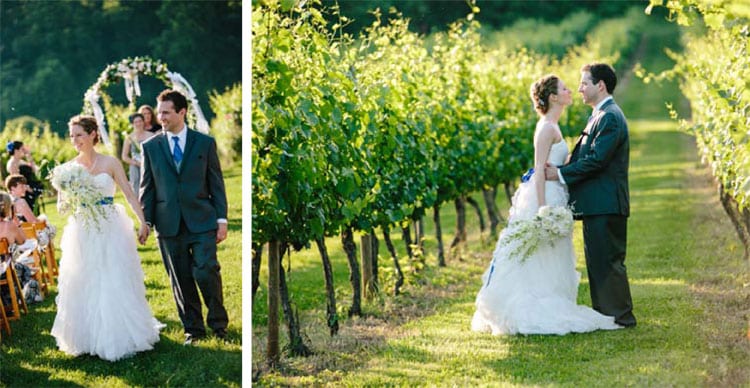 ---
Keswick Hall, a 600-acre expansive property located outside the city of Charlottesville in wine country, features a grand Italianate villa among gently rolling hills. The splendid foliage with an impeccable golf course provides an impressive backdrop, suggesting an event that is secluded yet dramatic.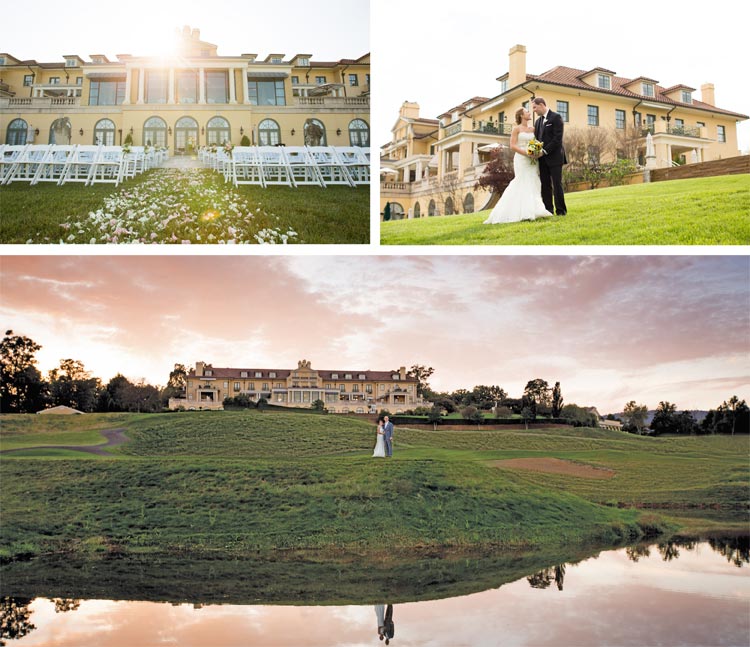 Top Photos by Aaron Watson Photography
---
Set on Grelen Nursery's gorgeous 600-acre tree nursery in Somerset, Virginia, The Market at Grelen Wedding & Event Venue boasts spectacular 360-degree views of the famous Blue Ridge Mountains. The facility's event spaces include an expansive Stone Terrace, a Greenhouse filled with seasonal plants and succulents and a gorgeous expansive Berry Field, complete with a furnished 4,500-square-foot tent. From an intimate small rehearsal dinner or ceremony to a large wedding celebration, the variety of choices and spaces give couples the flexibility to host all aspects of a wedding.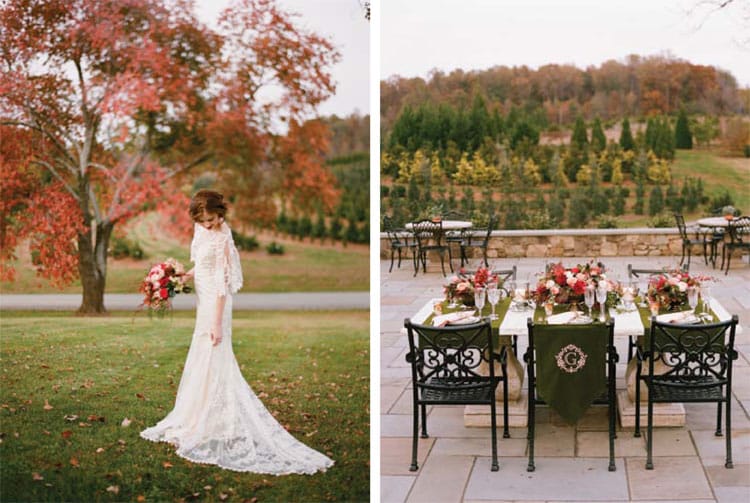 Photography by Jen Fariello Photography
---
Our third President's historic grounds, owned and operated by the Thomas Jefferson Foundation since 1923 with a mission of education and preservation, Thomas Jefferson's Monticello offers a variety of inspired settings that provide an unparalleled opportunity to experience Jefferson's Virginia. At Montalto, overlooking Monticello, 350-degree panoramic vistas of Charlottesville and the Blue Ridge Mountains change with the sunlight and the seasons. Repose, the gracious 11,000- square-foot country home perched atop Jefferson's "high mountain," offers a variety of event possibilities and is one of the most distinctive, elegant spaces in Virginia.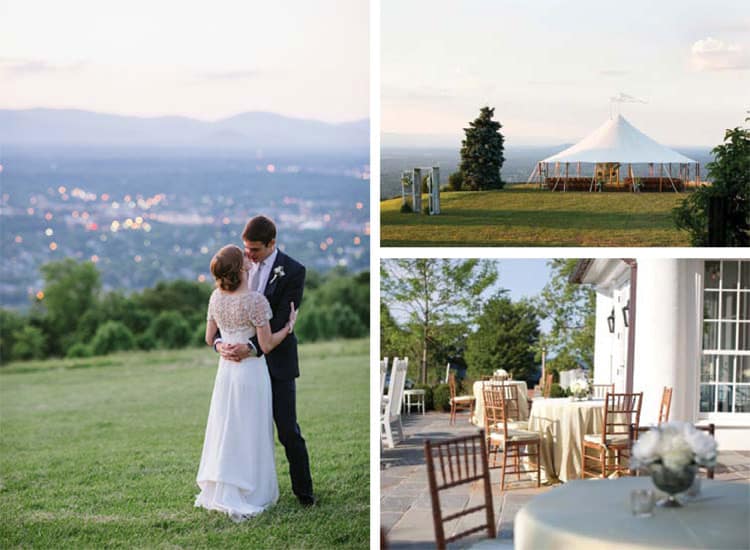 Photography by Jen Fariello Photography
---
Mount Ida Farm is a unique wedding venue located south of Charlottesville on a secluded, 6,000-acre sanctuary. Spectacular scenic vistas, historic homes, horse-drawn carriages, tree-lined drives, historic plantation accommodations and cocktail parties, lake or stable-side, all combine to create the venue of any couple's dreams.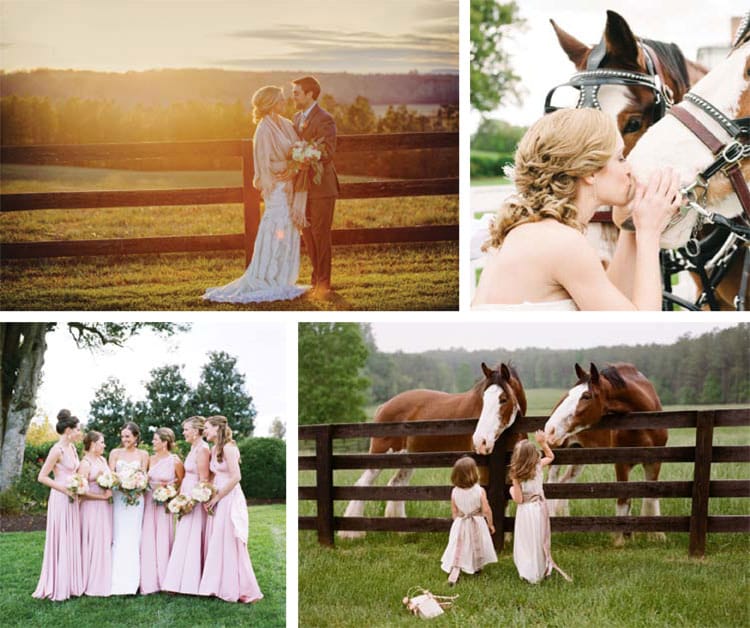 Bottom left photo by Sera Petras Photography; Bottom right photo by Jen Fariello Photography
---
Pippin Hill Farm & Vineyards is a distinctive winery and event space just outside of Charlottesville. Designed and co-owned by nationally recognized event planner and stylist, Lynn Easton of Easton Events, Pippin Hill blends rustic charm and modern elegance with well known wine and world-class cuisine. This dream venue brought to life reflects a signature timeless aesthetic and a high-touch approach to hospitality.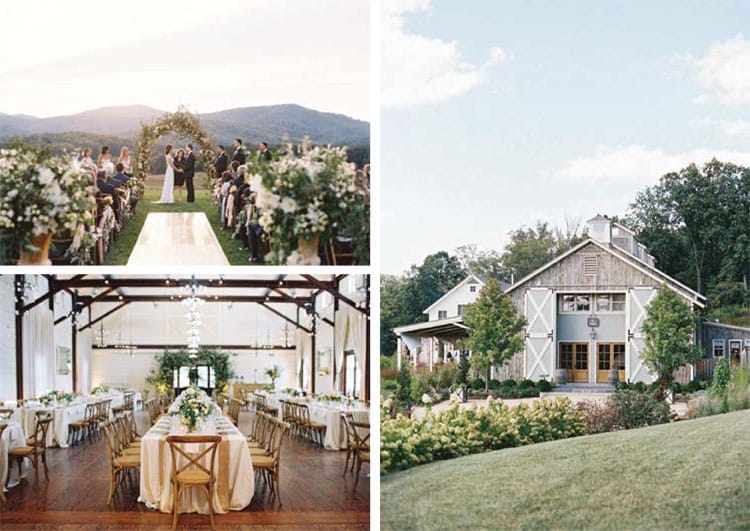 Right Photo by Eric Kelly
---
Veritas Vineyard & Winery features a variety of inviting indoor and outdoor spaces and has garnered praise as one of Virginia's most sought-after venues. Whether you prefer an intimate sit-down dinner at the Farmhouse or an all-out celebration in Saddleback Hall, Veritas stands ready to make a couple's dream event a reality. This beautiful setting awaits your personal touch for a truly unique and memorable event.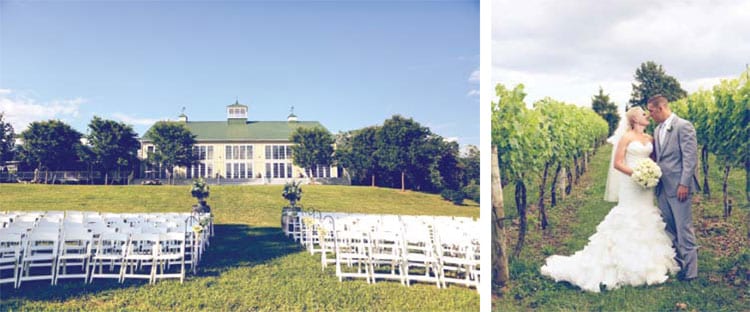 Photography by Daane Studios
---
A space with sweeping mountain views and intimate, secret gardens—from the reflecting pool and the grove of pines by the pond to the meandering stream and the rose and butterfly gardens, Waterperry Farm is a living work of art, always evolving in bloom and in light, so no matter where you turn, the magic is waiting to happen.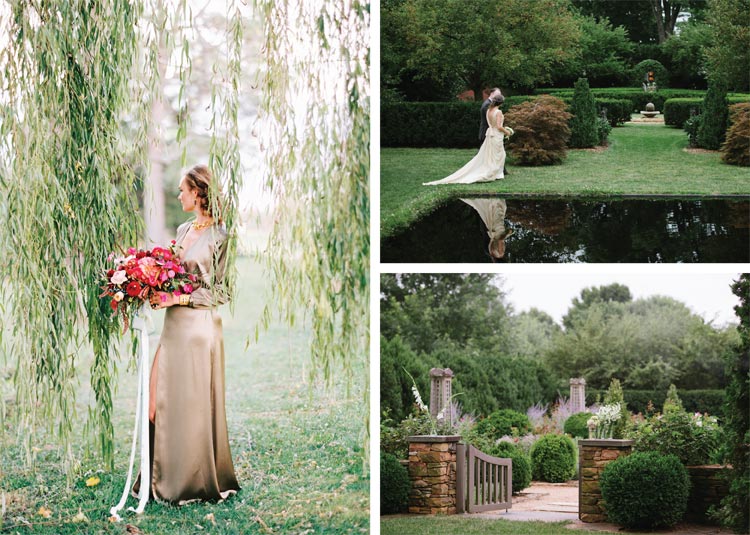 Bottom Right Photo by Jen Fariello Photography
Wine & Country celebrates elevated living in the heart of Virginia Wine Country. Charlottesville Wine & Country Living, a semi-annual magazine of Life & Style in Jefferson's Virginia, and Charlottesville Wine & Country Weddings, an art book celebrating elegant country weddings in Jefferson's Virginia, are accompanied by the Charlottesville Wine & Country Shop in Ivy, VA, a beautiful lifestyle boutique featuring over 40 Virginia artisans with everything from tailgating essentials and Dubarry attire to locally made foods, award-winning Monticello AVA wines as well as craft beverages for your next event. Wine & Country Experiences are now also available and include exclusive tours and hands-on classes with leading professionals in the local farm-to-table and vineyard scenes.